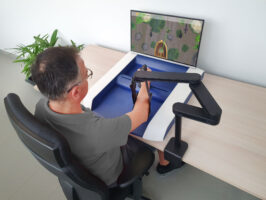 Articares introduces ArmFlow for patients with upper limb weakness
Articares announces the launch of ArmFlow to assist and support severely affected patients with upper limb weakness and movement impairments. The ArmFlow is designed to comfortably support a patient's affected arm while training with fun exergames on the H-Man system or practising horizontal arm movements to mimic basic Activities of Daily Living.   
About 70% of people will experience difficulties in using their arms after stroke as the motor functions of the brain are affected, leaving them with hemiparetic weakness.¹ Individuals that had traumatic brain injuries or other neurological conditions are also known to have upper limb sensorimotor disabilities.
ArmFlow support stand is an independent medical device that is not linked to any rehabilitation training robot in the market. It allows patients to move and flex their arms by compensating against the forces of gravity that could limit their recovery and neurorehabilitation training potential.
"When we started conceptualizing the ArmFlow with healthcare professionals, portability, ease of use and maintenance were the primary design considerations," says Goran Marinkovic, project manager and chief designer of ArmFlow. "The quick assembly of ArmFlow and the device's ability to be mounted on the edge of a table (various types and sizes) facilitates excellent use cases from hospitals to community rehab centres to home. The links are collapsible and can be secured with a quick release strap to allow easy and safe storage after use."
The ArmFlow is built to work in conjunction with the H-Man system by supporting patients who exhibit difficulties in lifting their arms. "ArmFlow is an excellent complement to the H-Man as we have observed that patients are able to have longer intensive training hours playing our specially designed exergames; thereby increasing therapy efficiency," says Rachana Pandey, clinical sales specialist of Articares and a trained clinician with a masters in physiotherapy, specialising in musculoskeletal sciences.
"The patients become more motivated as they enjoyed playing the games and can continue playing with less frustration. After a H-Man therapy training session, the patient can continue using ArmFlow support stand for basic daily activities such as writing, typing or playing a board game with family and friends."
The ArmFlow has obtained Singapore's Health Sciences Authority (HSA) approval for Class A medical devices and registration in other major markets are in progress. 
Citations: 
Kwakkel G, Kollen BJ, van der Grond J, Prevo AJH. Probability of regaining dexterity in the flaccid upper limb: impact of severity of paresis and time since onset in acute stroke. Stroke 2003; 34: 2181–21